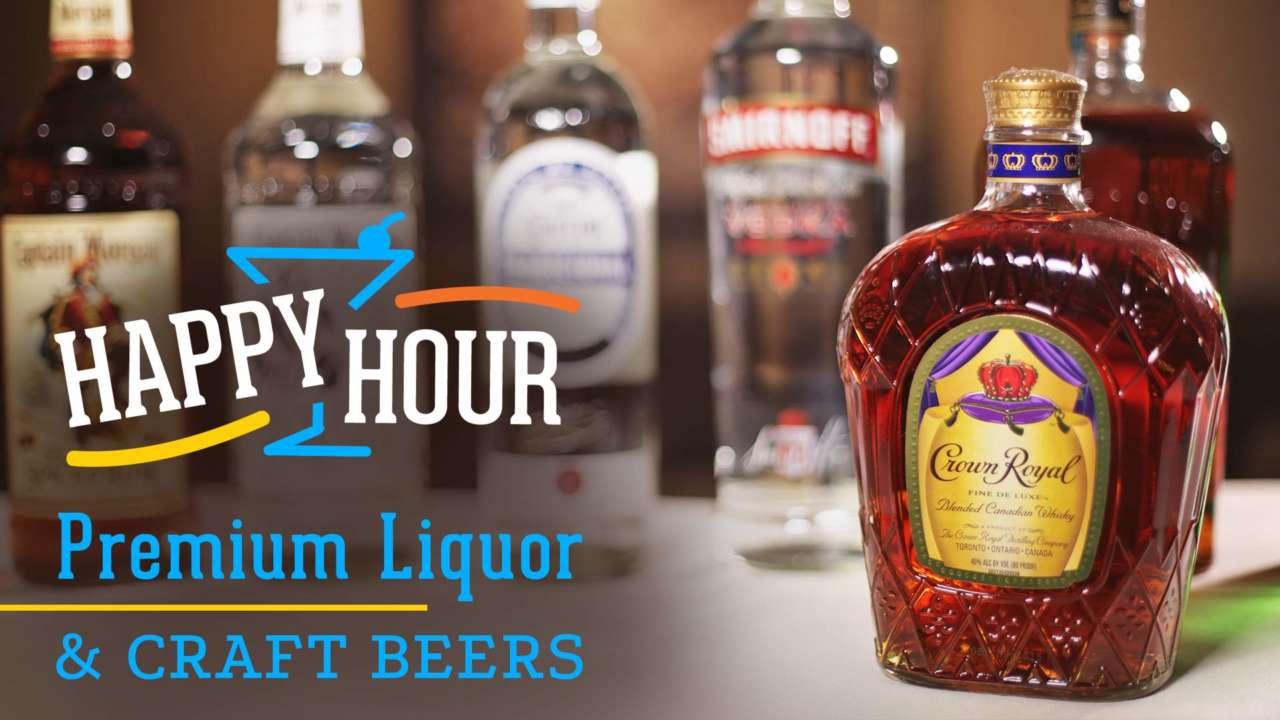 HAPPY HOUR MENU
3-6 and 9 to close Mon-Saturday
$4
Sweet Potato Waffle Fries Marshmallow Fluff dipping sauce
Edamame Whole Pods Steamed and Salted
Cucumber Salsa Served with Pita Chips
Quesadilla Flour tortilla, cheese, spinach and fire roasted artichoke dip, pico
$6
Cheese Curds–Garlic breaded cheese curds, jacked up ranch
Wings- Naked wings baked and fried, pick your sauce: BBQ, Honey garlic, sweet chili, Buffalo. Served with choice of ranch or bleu cheese.
Asian Nachos Smoked Pork, Wonton Wrappers, Slaw, Thai Peanut Sauce, Scallions
Dippin Chicken– Fresh chicken breast lightly breaded and deep fried served with choice of sauce.  Buffalo, ranch, BBQ Sauce or ND honey mustard
Mediterranean Nachos Fresh Spinach, Pita Chips, Goat Cheese Crumbles, Tomatoes, Cucumber Salsa
Lettuce Wrap Sautéed Thai Peanut Chicken, Roasted Red Pepper, Scallions, Fried Wonton Strips with soy sauce and Sriracha
Steak Bites Steak pieces, Brown mustard, melted cheese
Brisket Candy Smoked brisket tossed in kickin sweet BBQ sauce
Drinks Happy Hour
$4
Tap Beer Pints Bud Light, Miller Lite, Coors Light, Mich Ultra
Crown Royal, Bulleit Bourbon, Captain Morgan Spiced Rum or White Rum, Tanqueray Gin, Jose Traditional 100% Agave, Smirnoff Vodka
$6
Wine Butternut cabernet, Murphy Goode red blend, Velvet Devil merlot, Piatelli Malbec, Columbia crest chardonnay, Seeker sauv blanc and pinot noir, Clean slate Riesling, Kris Cuvee Pinot Grigio, Movendo moscato
BAM!
Bud Light, Miller Lite, Coors Light, Mich Ultra
Premium Long Island Tea
Smirnoff, Jose Cuervo 100% Agave, Tanqueray, Capt Morgan White
Classic Margarita Jose Cuervo 100% Agave on the rocks only
Bulleit Mule Bulleit Bourbon, Lime Juice, Ginger Beer
Moscow Mule Smirnoff vodka, Lime Juice, Ginger Beer